SOLAR FENCE ENERGIZER BX280
ELEKTRONISCHE OMHEINING ENERGIZER VOOR RUNDVEE, PAARD EN ELK ANDER LEVENSTILLEN.
30 km accepteren OEM service xstop BX280 zonne-energie elektrische hek schrikdraadapparaat. Farm shearing world 30km Zonne-energie Energizer. Enkele regel: 30 km of meer. Het is klaar om direct uit de doos te gebruiken; Of u uw vee of honden wilt behouden, een zitplaats elektrocuteren of een volledig elektrisch hekwerk van een boerderij oprichten. De volgende keer dat je je dieren ziet proberen te ontsnappen, weet je dat je ze volledig hebt vastgehouden met je Bx280 elektrische afrastering. U hoeft geen tijd te verspillen met het plaatsen van stop-gap-schermen. Zodra de afrastering is geplaatst, houdt de elektrische puls je dieren in de paddock waar ze bij horen, zodat je echt gemoedsrust hebt. Als klap op de vuurpijl zal de batterij, wanneer deze volledig is opgeladen via het zonnepaneel, maximaal 3 weken meegaan zonder direct zonlicht. We hebben persoonlijk getest en bewezen dat het zonne-energieapparaat dat we verkopen, bestand is tegen alle weersomstandigheden die het klimaat in Australië kan veroorzaken.
Xstop® BX280S energizer is gebouwd volgens CE veiligheidsspecificaties en IP54 goedgekeurd.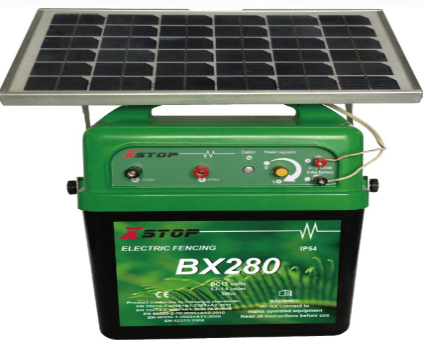 DETAILS:
Feature & Benefits
l Batterijvermogen en compatibel met zonnepanelen
Dual-Purpose-functie maakt het mogelijk om de energizer te laten werken op een 12V-accu of een zonnepaneel laadt een 12V-accu op
* Batterij en zonnepaneel zijn niet inbegrepen.
l Lage impedantie energizer
Ontworpen om vermogen te leveren aan het einde van het hek, zelfs onder zware belasting, bijv. Gebladerte, ondergroei.
l Ingebouwd bliksembeveiligingsontwerp
Gebruikersveiligheid en betrouwbare dierencontrole met ingebouwde bliksem- en kortsluitbeveiliging
l LED-indicatielampje
Snel knipperend rood indicatielampje geeft de prestaties van batterij en hekspanning weer.
l Batterijbesparend model beschikbaar
Draaischakelaar activeert batterij aan / uit voor energiebesparing
l Weerbestendig ontwerp
Schakel buitenmontage in
l Meerdere montagemogelijkheden
Energizer kan eenvoudig op de muur, de paal (genageld) of de stalen paal worden gemonteerd.

l Duurzame kast beschermt het circuit tegen extreme weersomstandigheden
l CE, IP54 vermeld
TOEPASSINGEN:
· Werkt in zware onkruidomstandigheden
· Ideaal voor externe locatie
· Gebruik de BX280 om veilig stieren, geiten, paarden, varkens, roofdieren, varkens en schapen te bevatten
SPECIFICATIES:
Power supply: 12 volts with 20W solar panel
Consumption: 0.05A~0.25A / hour
Voltage Vacuum: 10000 volts
Delivered power vacuum: 6.2 joules
Power output at 500 ohms: 0.5~2.5 joules
Effective length: 30 km
Effective area: 56.25km2/5625ha
Plastic case. Dimensions: 275x220x100 mm
Weight: 2.5 kg
Product Categorie : Elektronische Omheining Energizer > Solar Electric Hence Energizer